Christmas Crafting
Take another look.
This Christmas Ornament is created on a Styrofoam Ball base that has then been poked with individually folded twist ties.
The greenery, the bow and the floral accessory and the hanging red string have simply been hot glued
to the top.
Voila! It really can be that simple to fish up fun in the kitchen.
Creative Christmas Ornaments
Styrofoam Balls can be purchased relatively inexpensively and are a perfect place to begin
in the making of fun, quick, creative, home made Creative Christmas Ornaments.
The first step is to hot glue a loop of wire, bow, shoelace, glitter thread, fish line or wool to the top of the ball for a hanger. I do this first because it makes it easy to hold the ball for working and because you can then cover any excess hot glue with the decorations that are glued or pinned over top, to the Styrofoam ball.
Almost everything and anything goes over the ball.
Fabric pieces can be pinned in place or wrapped creatively around the ball and tied with a seasonal bow.
Balls can be dipped in glue and rolled in glitter to deck the halls.
Old Christmas cards can be cut and kept in place using glitter glue smeared all over the place!
The Ornaments at bottom left were created using seeds and legumes;
I used mung beans (beansprouts) popcorn seed and bird seed but the list could go on and on.
Seeds and legumes come in all colors, sizes and shapes. Use your imagination and as always,
have fun.
The Styrofoam balls are covered with white glue and then rolled gently through a seed or legume bath.
Another layer of white glue is then applied being squeezed right from the bottle tip onto, into and around
the seeds or legumes that adhered to the ball in the first roll. After several applications of glue and seed or legume has been built up, the balls should be left overnight to dry.
It is optional then to give them an acrylic spray of glitter.
Ornaments of Seeds and legumes
Deck the Halls
HERE
A Light bulb Moment HERE
Christmas Ornaments
These of course are not edible
but some Christmas Ornaments are.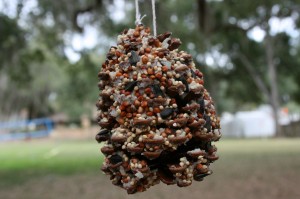 Bird Seed Feeder Ornament
Pine cones are a perfect pick for pint size crafters and also happen to be loved by the birds!
Top of the Season to you all.